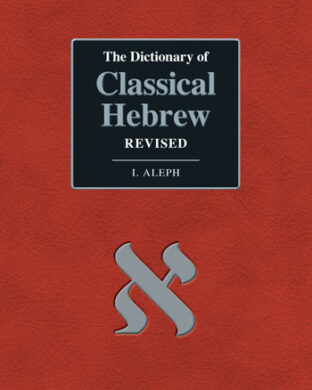 The Dictionary of Classical Hebrew (published 1993-2016) comprises eight volumes plus a ninth volume containing an English–Hebrew Index and Word Frequency Table.

Unlike previous dictionaries, which have been dictionaries of biblical Hebrew, it is the first dictionary of the classical Hebrew language to cover not only the biblical texts but also Ben Sira, the Dead Sea Scrolls and the Hebrew inscriptions.

This Dictionary covers the period from the earliest times to 200 CE. It lists and analyses every occurrence of each Hebrew word that occurs in texts of that period, with an English translation of every Hebrew word and phrase cited.

Among its special features are: a list of the non-biblical texts cited (especially the Dead Sea Scrolls), a word frequency index for each letter of the alphabet, a substantial bibliography (from Volume 2 onward) and an English–Hebrew index in each volume.
See also The Concise Dictionary of Classical Hebrew, a one-volume version of The Dictionary of Classical Hebrew.
How Is the Dictionary of Classical Hebrew (DCH) different from all other Hebrew dictionaries?
Scope
           It includes not only Biblical Hebrew but also all Classical Hebrew (pre-200 ce), i.e. Ben Sira, Dead Sea Scrolls, Inscriptions
Exhaustiveness
           All occurrences cited (except for some common particles like w" and and B] in)
Syntagmatic analysis
           Shows all subjects and objects of verbs, all verbs of which a noun is subject or object, etc.
Occurrence statistics
           For each word in the four corpora of Classical Hebrew: Hebrew Bible, Ben Sira, Dead Sea Scrolls, Inscriptions; and for each voice (binyan) of a verb)
New words
           Contains 3,572 words not in BDB (the standard 1906 English lexicon of Hebrew)
Synonyms and antonyms
           Shows all words used in parallel or opposition in texts
                             An unrivalled collection of references to specialist studies of individual words
4 million words, equivalent to 40 standard-size books
                             The most thorough Hebrew dictionary ever produced